Over the years, service provider networks have become complex, rigid, and inflexible in terms of service creation and delivery, slowing down the innovation cycle and driving up their capital and operational expenses. Hence, just defining the term SDN (Software-defined networking) would not to justice to this potential technology which is changing sectors from enterprises, telecom and every business. SDN is the beneath power in a scenario where businesses are shifting towards upgraded networks and infrastructures. Taking away the legacy of most-dominated hardware technology in the networking world, SDN has defined the augmented term 'virtualization'. First traced during Stanford University and the University of California collaborative research, where the researchers found Stanford University and the University of California in the 2008 timeframe further determining the world of SDN. OpenFlow is only one of the first SDN canons, but it's a key component because it started the networking software revolution.
On the other hand, NFV(Network functions virtualization) are vitally known for using commodity servers. NFV also replaces network appliances making it more flexible, reliable, efficient and scalable. With NFV standard server platforms can modernize their networks. This all is possible adjoining lower costs and giving more flexibility to networks. NFV covers a wide range of network applications, but is driven primarily by new network requirements, including video, SD-WAN, Internet of Things and 5G.
Capabilities of SDN (Software-defined networking) and NFV
SDN (Software-defined networking) enables the programming of network behavior in a centrally controlled manner through software applications using open APIs. SDN opens up traditionally closed network platforms and implementing a common SDN control layer helping operators to manage the entire network and its devices consistently. SDN breaks the barrier further by operating or working with ahead technology complexities.
According to ETSI, the goal of NFV is to transform the way that network operators architect networks by evolving standard IT virtualization technology to consolidate many network equipment types on to industry standard high-volume servers, switches and storage, which could be located in the data center, in the network or at end-customer premises.  NFV replaces traditional, custom-designed network equipment (black boxes) that continues to dominate the installed base of networks.
SDN vs NFV: Differences
Software defined networking (SDN) is typically defined as the separation of the forwarding and control planes in a network element.  It provides improved control/management as well as network programmability.  SDN is distinct from NFV – but many NFV deployments may use SDN controllers as part of the overall NFV architecture.
SDN
Defines the big-picture aspects of the entire network—the type of infrastructure, services and applications available. Determines network policies that guide the delivery and use of network resources. Hypervisor orchestrates and controls lower-level network functions.
NFV
Deliver a wide range of specific functionalities that must be performed at all levels and stages of a network – at the periphery, boundary and core—under the control of a hypervisor.
Network Evolution Explained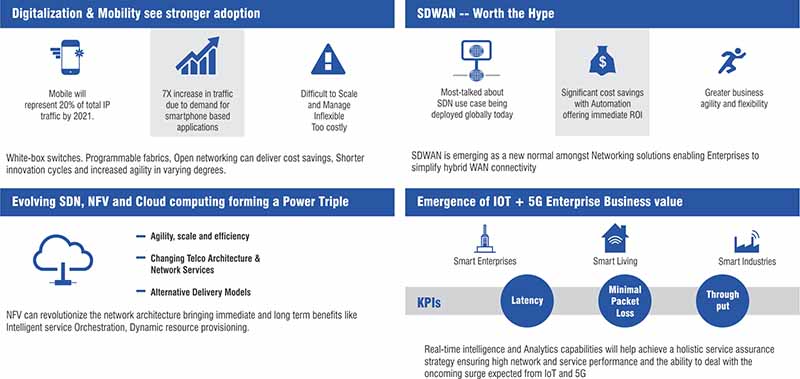 The Growth Trajectory

There are several reasons for the growth of SDN and NFV. The drivers of these technologies include the growth of big data, mobile devices, and the expansion of distributed databases and servers located at different sites and connected over long distances through public and private clouds that require robust data management systems and access to bandwidth on demand. As VARs embark on a plan to implement SDN and NFV, however, they should appreciate the differences between these two networking approaches and recognize the ways in which both can help network administrators elevate their management capabilities.
Both SDN and NFV rely on software that operates on commodity servers and switches, but both technologies operate at different levels of the network.
SDN is designed to offer users a way to managed network services through software that makes networks centrally programmable, which allows for faster configuration. Essentially, SDN makes the network programmable by separating the system that decides where traffic is sent (the control plane) from the underlying system that pushes packets of data to specific destinations (the data plane). As network administrators and VARs know, SDN is built on switches that can be programmed through an SDN controller utilizing an industry standard controller like OpenFlow.
SDN and virtualization are poised to transform network and service architecture thanks to improvements in technologies that offer improved performance and lower costs. However, some data centers use SDN but do not offer NFV as a service. And although a less likely scenario, a service provider can support NFV without having an SDN-enabled network. In short, NFV usually runs over SDN enabled networks, but not all SDN networks need to provide NFV.
Many telecom initiatives, such as the implementation and operation of edge computing, are built upon the pillars of SDN, NFV, and cloud technologies. We see many of these initiatives involving both SDN and NFV evolving to become increasingly applicable to many different CSP and enterprise environments and use case scenarios.
However, many efforts are silo-based, meaning that they are not cross-platform or cross-CSP. This will continue to a certain extent, but we also see a developing need for a federated platform to act as a development environment as well as test-bed and field trial operations in a cross-technology, cross-service provider framework. This platform will address SDN devices, controllers, and applications according to a report by ResearchAndMarkets.com.
Market at a Glance
The global SDN ( Software Defined Networking) Market size was valued at USD 9,995 Million in 2019 and is projected to reach USD 72,630 Million by 2027, growing at a CAGR of 28.2% from 2020 to 2027. The need for improved network architecture is prominent as a growing number of companies migrate to web-based applications and services. Low operating costs, comprehensive management of infrastructure, abstraction, and cloud integration are some of the major factors expected to drive the growth of SDN market size during the forecast period.
Organizations that introduced software-defined networking during the COVID-19 pandemic quickly adapted to the emerging traffic dynamics and network specifications that arose from work-from-home mandates. SDN helped those organizations cope with the ongoing pandemic and sustain the economically positive operation.
Whereas, NFV Market size exceeded USD 5 billion in 2017, growing at a CAGR of over 42% from 2018 to 2024. The NFV market is expected to witness a sharp growth as network virtualization technologies enable enterprises to eliminate the costs associated with the procurement and maintenance of hardware equipment. The technologies help to deliver network services in a more scalable way compared to the traditional networking approach. The enterprises are rapidly embracing network virtualization solutions as they promote faster server provisioning and quick deployment of network services. The SMEs are projected to witness a heavy usage of virtualization solutions as they enable consolidation of server & applications and improve disaster recovery. By deploying these solutions, they can also handle multiple workloads with maximum uptime and improved performance.
Rapid investments for the commercialization of 5G networks will also drive the demand for NFV solutions. The implementation of virtualization technology will help to enhance 5G network's functional and architectural viability including increased agility and reduced capital expenditure.
India for SDN and NFV
At a time when Indian telecommunications sector is witnessing unprecedented growth and consolidation towards network virtualization and automation, evolving technologies like Software defined networking (SDN) and network functions virtualization (NFV) are gaining importance immensely. Telecom industry professionals from across the country are in favour of adopting these two technologies for better network virtualization and automation. Even though SDN and NFV are closely related, yet differs from each another. In the present day context, the occurrence of these two technologies are primarily driven by the requirements for robust data management systems and access to bandwidth by servers located at different sites and connected over long distances through public and private clouds. Due to the outbreak of the COVID-19 pandemic, a significant shift towards cloud computing by many organizations would increase the adoption of SDN solutions by cloud service providers. This, in turn, is expected to be the major driver for the growth of SDN Market size in India.