DÜSSELDORF, Germany, Sept. 18, 2020 FUJIFILM Europe GmbH announced today that CAD EYE is now commercially available in Europe. CAD EYE is a new software with two functions for colon polyp detection and characterisation utilising Artificial Intelligence (AI) based on deep learning. The official presentation will take place during an ESGE Connect 2020 Satellite Symposium, on Monday 21st September 2020 at 5:00 pm.
The characterisation function together with the polyp detection function is available with software EW10-EC02 and the compatible expansion unit EX-1 in combination with Fujifilm's ELUXEO 7000 system and the 700 series colonoscopes.
CAD EYE was originally developed to support real time detection of colonic polyps utilising AI technology. When a suspicious polyp is detected within the endoscopic image, a Detection Box indicates the area where the suspicious polyp has been detected accompanied by a sound signal. The CAD EYE Characterisation module will assist clinicians by generating a suggested histological prediction by displaying whether the suspicious polyp in the image is hyperplastic or neoplastic.
CAD EYE functions while the moving endoscopy image is being observed and does not require complicated techniques or operations such as magnification and image capturing.
Prior to CAD EYE, Fujifilm has developed two different types of image enhancement technologies called LCI (Linked Color Imaging) and BLI (Blue Light Imaging) for supporting detection and characterisation respectively due to their characteristics of light wavelength used (2*). Fujifilm has applied this idea to the development of CAD EYE, and CAD EYE's functionalities are automatically activated depending on the current observation mode.
CAD EYE Detection is activated when the clinicians are observing in White Light Mode or LCI Mode, and it automatically switches to CAD EYE Characterisation when the observation mode is changed to BLI Mode. CAD EYE can be activated or deactivated simply with just one click of the scope switch, which is also considered important when the functions are no longer necessary such as during therapeutic procedures.
The Graphical User Interface (GUI) was designed to minimise the endoscopists' eye movements during a procedure, displaying the characterisation result and the Visual Assist Circle around the circumference of the endoscopy image. The Position Map is placed directly next to the side of the clinical image to show which area of the video image CAD EYE is focusing on.
"Increasing the number of endoscopists who can properly detect and characterise colon polyps is one of the critical issues in the gastroenterology field," says Prof. Helmut Neumann, Professor of Medicine and Director Interdisciplinary Endoscopy Center of University Medical Center Mainz. "With the combination of CAD EYE Detection and Characterisation, the learning curve of colonoscopy examinations can be largely improved. With the assistance of CAD EYE Detection, we can possibly see an increase in the Polyp Detection Rate (PDR), and even those who are not endoscopy experts may be brought considerably closer to this level. CAD EYE Characterisation has the potential to decrease the cost of histopathology by reducing unnecessary biopsies taken during endoscopy procedures. It is helpful that CAD EYE is available with any 700 series colonoscopes which are already in the market, and it does not require any additional operation to be activated such as magnification. Endoscopists can simply use the scope just as normal, instantly providing us with this powerful supporting tool."
As for the detailed information regarding the instructions for use, warnings, and precautions, please refer to the operation manual. For further inquiries, please contact Fujifilm's subsidiaries or authorised distributors in each country or region.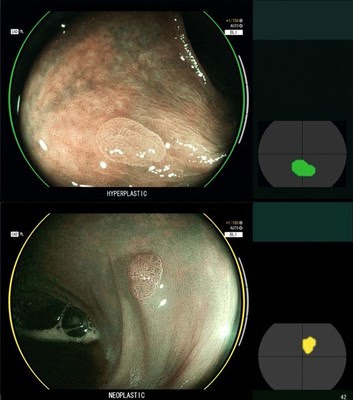 To discover the benefits of CAD EYE during colorectal endoscopic practise, connect with us at ESGE Connect Satellite Symposium: Monday, 21st September 2020, 5.00 pm for a free webinar.
The webinar consists of pre-recorded lectures with live Q&A, with the participation of Prof. Pradeep Bhandari, University of Portsmouth, Solent centre for Digestive Diseases, Queen Alexandra Hospital, Portsmouth, UK; Prof. Dr.Emmanuel Coron Digestive Diseases Institute University Hospital of Nantes, France; Dr. Emanuele Rondonotti Gastroenterology Unit, Hospital Valduce, Como, Italy
For more information, please visit: www.fujifilm.eu